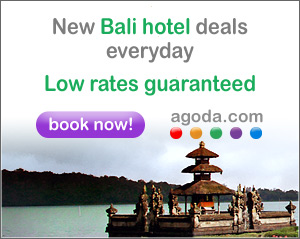 Don't Know What to Do in Bali?
Don't worry, I will give you a lot of fun activities when you are in Bali. It is MY JOB to ensure that your holiday is not BORING but FUN and UNFORGETTABLE! This I can promise you!
Have you booked your accommodation in Bali? If not then i recommend you this website to book for your accommodation: www.rumahvillabali.com, they offer not just a Villa, but also accommodation at around US$50 per night with air-condition, kitchen, rice field view etc. By the way, Villa in Bali is not a small house like it is in Australia, but Villa in Bali is actually a large beautiful house with private swimming pool etc.
Who Am I?
My name is Daniel, that's me on the left; believe me I was skinny! I am a family man and that's my second son and his name is James or Jeje I call him, I am a Balinese and have been a tour guide for over 15 years. Most of my clients are from Australia but sometimes also from Europe and some other countries. Me and my drivers have almost zero record of accident, so driving around Bali with ME and my Drivers are VERY SAVE and will be a pleasant thing to do; promise :)
By the way, don't worry about James as he will not be coming with me when I drive you around Bali during your visit.
Feel free to browse my website and check what activities would you like to do during your stay in Bali and I will make it happen for you.
So back to the main question on my website, what to do in Bali? Well, there are a lot to do in Bali really, and I will show you some options about what to do in Bali, choose one or two that suits your interest, if you have enough time, you can choose all, and both of us would be more than happy if you choose so.
Bear in mind that I have been doing this for over 15 years, so I really know what to do to make your Holiday in Bali FUN and UNFORGETTABLE!